I have been a dietitian in the field for 20 years. I have seen diets and trends regarding nutrition come and go over this time, but the one constant has been the Mediterranean Lifestyle. Touted as one of the most heart healthy diets with it's diet rich in fiber, Omega-3 fatty acids, and antioxidant rich foods it not only benefits heart disease but many other medical conditions. See the picture below for just a few of the health benefits of the Mediterranean Diet.

The Mediterranean Diet stems from countries circling mostly the northern shores of the Mediterranean such countries as Greece, Italy, and Spain. Research has shown that these people are exceptionally healthy compared to Americans and have a lower risk of many lifestyle diseases.
The lifestyle can be modified to suit your needs. For example I don't like cooked fish, so I won't plan on using it, but filling my diet with other Omega-3 rich foods like walnuts or flax seed.
The Basics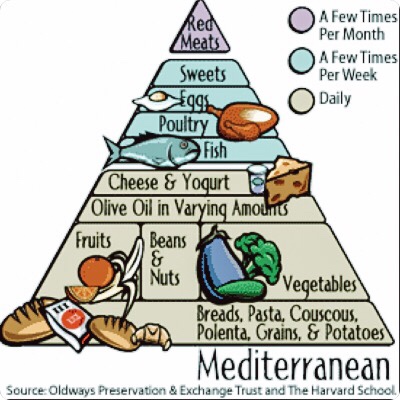 – the majority of your diet should be in vegetables, fruits, nuts, seeds, legumes, potatoes, whole grains, fresh breads, herbs & spices, fish, poultry, and extra virgin olive oil.
-eggs, cheese, and yogurt are in moderation
You should base your diet on these healthy, unprocessed Mediterranean foods:
Vegetables:

Tomatoes, broccoli,

kale, spinach, onions, cauliflower, carrots, Brussels sprouts, cucumbers, etc.

Fruits:

Apples, bananas, oranges, pears, strawberries, grapes,

dates, figs, melons, peaches, berries, grapefruit, etc.

Nuts and seeds:

Almonds,

walnuts, macadamia nuts, hazelnuts, cashews, sunflower seeds, pumpkin seeds, flax seed, etc.

Legumes:

Beans, peas, lentils, chickpeas, etc.
Tubers:

Potatoes, sweet potatoes, turnips, yams, etc.
Whole grains:

Whole oats, brown rice, rye, barley, corn, buckwheat, whole wheat, whole-grain bread and pasta.
Fish and seafood:

Salmon, sardines, trout, tuna, mackerel, shrimp, oysters, clams, crab, mussels, etc.

Poultry:

Chicken, duck, turkey, etc.
Eggs:

Chicken, quail and duck eggs.
Dairy:

Cheese, yogurt, Greek yogurt, etc.
Herbs and spices:

Garlic, basil, mint, rosemary, sage, thyme, nutmeg, cinnamon, pepper, etc.

Healthy Fats:

Extra virgin olive oil, olives,

avocados

and

avocado oil
Whole, single-ingredient foods are the key to good health. If craving a sweet which they have minimally it will often be a high quality dark chocolate, fruit, custard, or gelato of some kind.
Beverages
Water, can be tap, spring, sparkling should be your go-to beverage.
This Mediterranean lifestyle also includes moderate amounts of red wine— around 1 glass per day for females and 2 glasses per day for men
*However, this is completely optional, and wine should be avoided by anyone with moderation concerns or underage.*
Coffee and tea are also completely acceptable, but you should avoid sugar-sweetened beverages and fruit juices, which are very high in sugar.
Limit these Foods
You should limit these items and ingredients:
Added sugar:

Soda, candies, ice cream, table sugar and many others.
Refined grains:

White bread, pasta made with refined wheat, etc.
Trans fats:

Found in

margarine

and various processed foods

like packaged chips, crackers, cookies, etc

Refined oils:

Soybean oil,

canola oil, cottonseed oil and others.

Processed meat:

Processed sausages, hot dogs, etc.
Highly processed foods:

Anything labeled "low-fat" or "diet" or which looks like it was made in a factory.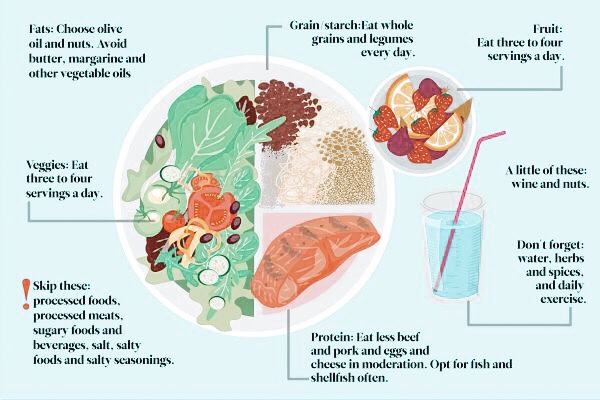 Lifestyle Choices
Be Physically Active
Activity varies in the Mediterranean however it is not as common for them to spend hours in a gym. Instead they live a more active lifestyle that included less use of vehicles, walking more, family centered events often include a physical activity, often jobs and hobbies involve more manual labor too. In short keep moving.
Enjoy time with friends and family
The Mediterranean Lifestyle is very social. Going to the market daily is part of ones socialization time. If possible meals are with people or family to focus on time together vs just racing to finish eating.
Savor your meals
Often meals are made from scratch and even a family affair. With the extra effort added the people of the Mediterranean will celebrate each meal and the work involved by truly tasting and smelling each bite or sip. Meals are half the American size meal and yet last twice as long.
Slow Down
The old adage who wins the race the turtle or the hare is a perfect example of American vs Mediterranean's. We are a go go go, bigger, better society. Yet we have some of the highest mental health issues in the world. The average American lunch is 15-20 min. The old hour long lunch break is becoming an extinct species as we are all working into or during our breaks. Many countries will not only have a lunch but a siesta where the whole town shuts down to rest. I mean could you imagine not feeling the pressure of the clock to finish up work, make personal calls, etc.
Small portions
This is especially true of the svelte females in the Mediterranean. From a young age they are brought up not only with healthy food choices but also to eat a dainty portion. You will not see them going back for seconds or filling up there plate. The goal of eating is not to be full, but to nourish the body as it needs. The portions leave "white space" on the plates or in other words a plate is not a heaping pile of food. Often meals are finished with coffee or tea to allow the smaller amount of food time to fill one up.
Laugh Often
In the US we all take life very seriously. When was the last time you had a good belly laugh. Aim for this daily if you can and chill the heck out.
Live Simply
One of my favorite songs is simple man by Lynyrd Skynrd. In the song like the Mediterranean Lifestyle people enjoy simpler things. A good hard working partner in your life, a quality job, healthy foods, buy what you need, limit excess, or in other words a more minimalistic lifestyle. In the words of Lynyrd Skynrd…
"Forget your lust
for the rich man's gold.
All that you need
is in your soul.
And you can do this
if you try.
All that I want for you my son, is to be satisfied.
"And be a simple kind of man.
Oh, be somethin' you love and understand."
In conclusion
There is no one perfect Mediterranean Lifestyle, but it is an accumulation of good food, good people, hard work, with a need and want for little. Maybe just maybe that's the secret to wellness.